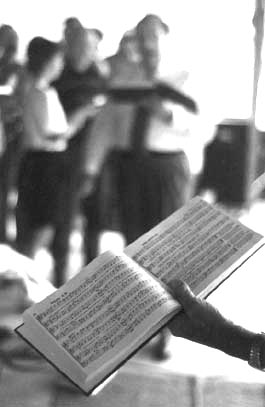 "Singing In the Park"
Photo by John Lamb

Sacred Harp Singing
What is Sacred Harp Singing?
Sacred Harp singing is a musical tradition centered on religious music from a 19th Century tune book called the Sacred Harp. This tradition is the most active of several other Shapenote traditions still practiced in the South, and other regions of the country; which include traditions based on The Christian Harmony, The New Harp of Columbia (aka Old Harp), The Social Harp, The Harmonia Sacra, and The Southern Harmony.

Over the years several hundred different tune books were published, but only a few are sung from actively today. These books, along with the Sacred Harp, use Shape Notes -- an early American form of musical notation designed to facilitate sight reading by non-musicians. Using ordinary staff lines, the notes have shaped shaped heads that indicate their position in the scale. It features three or four part harmony, and is sung by singers arranged (by parts) facing an open or "hollow square."
What Does it Sound Like?
Vist Pilgrim Productions for audio samples of a variety of Sacred Harp and other shapenote singing traditions.


For More Info
Visit these links for more about shapenote music:

My feature story about Sacred Harp Singing

My Recordings of Shapenote Singing

Warren Steel's Shapenote Resources Page

Maps to Sacred Harp Singings Please note this is a LARGE & GRAPHICAL website.

Harpeth Valley Sacred Harp Singers




How do I get Involved and What Does It Cost?
Visitors and new singers are always welcome at shapenote singings. The music is about participation -- not perfect performance. So don't be afraid to get involved. Check out the web resources above, locate a singing near you and attend. Books are available for purchase at the majority of singings, or you can find out where to purchase them on the sites above. Books range from $12-$30 depending on which branch of the shapenote tradition you choose to become involved with.

Once you have purchased a book, you may want to attend a singing school, where beginners (and experienced singers) work on building their skills. There is usually no cost to attend singings. Ocassionally there may be a small fee to attend a singing school depending on the teacher and location. Your only cost will be your travel expenses as you become addicted and travel to more and more singings, and "have" to buy more books and recordings!



For more information about Sacred Harp singing in Chattanooga, send mail to Linda Sides, the organizer of the Chattanooga group. For information about singings in Cleveleand, send mail to Daryl Chesney the organizer of the Cleveland group.
Other Singings in the South and Elsewhere
Singings from the 1991 "Denson Edition" of the Sacred Harp
Singings from the "Cooper Edition " of the Sacred Harp
Singings from The Harmonia Sacra
Singings from The Christian Harmony
Singings from The New Harp of Columbia
If you know of a resource that should be included on this page, or have suggestions or comments, send mail to John Lamb