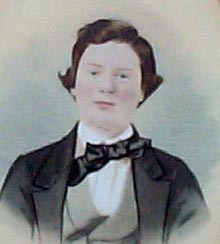 Harry Stewart
Photo Courtesy of the Thompson Family.

2nd Maryland Regiment
Pikesville Arsenal
January 16, 1862
Dear Mother,
Having a few moments leisure tonight I will write and let you know how and where I am. The weather has been very bad for the last few days but I've been very careful and so far have experienced no inconvenience with the exception of a slight headache. I am very well. We received orders on Tuesday of last week to move and after their being rescinded and again renewed left Camp Carroll for Pikesville Arsenal about 10 miles from Baltimore where we have very good quarters. I having in connection with the colonel a bed and bedstead fire in the room etc. Everything is splendid. I have been appointed post master of the regiment in connection with my other duties. I go to the city nearly every day thus not being separated from Amanda as much as I had expected I should have been. I am delighted with solider's life thus far and only wish they would pay us off again. Amanda's very well and loves me I know. Will you write to her? I wrote to Hennie yesterday and Cousin Mary Coombs the day before. I have bought me a new sword which I will have to pay for on payday and have had gold chevrons put on my arms and shoulders. The officers term me the "pet of the regiment". Love to all.
With love I am you loving son
Harry H. Stewart
2nd Maryland Regiment
Pikesville Arsenal
Baltimore County Maryland

{Amanda through me written on the edges, also written on the edges: love to Ginnie and Mattie tell them to write to me you write to Amanda}